We've Renovated!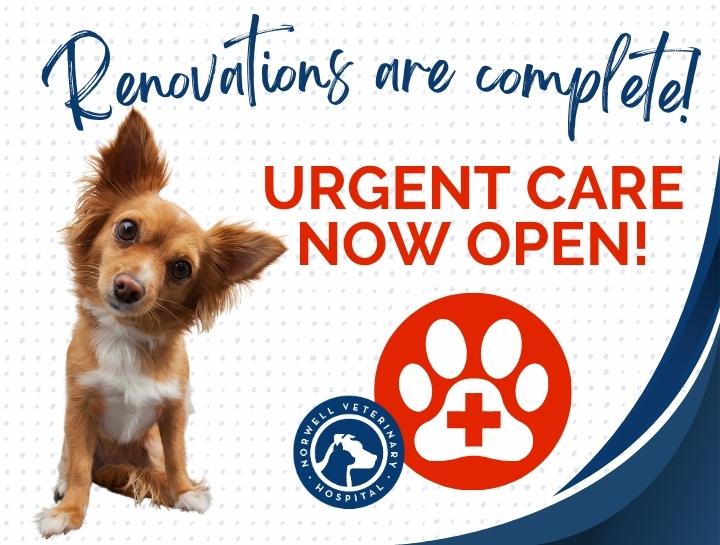 September 21, 2023
We are pawsitively thrilled to announce that renovations are complete! We began renovations here at Norwell Veterinary Hospital in January 2022!

Norwell Veterinary Clinic has gone through many changes over the years but our core mission remains the same: to provide our patients with the highest quality of care possible. The newly renovated space will better support our ability to provide this high standard of care!

We are also excited to announce that upon the completion of our renovations, we have opened our new Urgent Care!

Additionally, we have also been able to expand our general practice to offer exotic, pocket pet, and avian care as well as orthopedic surgeries

Now that renovations are complete, geriatric and painful pets will be able to be seen in an exam room "inches from the curb" to help prevent that long walk across the lobby floor. The linoleum tiles have been replaced by pet-friendly flooring to help prevent those paws from slipping while walking into the hospital. Our feline-friendly area not only remains but has been expanded to help ease any stress for our cat patients.

Our treatment room area boasts a new surgery suite, dental suite, and imaging center for both x-rays and ultrasounds. We will have a designated area for both acupuncture and laser therapy patients that will allow them to receive their treatments in a comfortable, calm space. Our new microscope and lab equipment allow for same-day results that can be shared with our clients.

Elevating our level of technology and improving flow were two of our main goals as the hospital designs were drafted. Everything from filling out a "new client form" to our phone answering service to our check-in and check-out processes has been thoroughly dissected and improved upon. We're excited to welcome you and your pet(s) into our new space!
Be sure to follow us on Facebook for future news and updates about Norwell Veterinary Hospital.
Call (781) 659-4911 with any questions or to schedule an appointment.